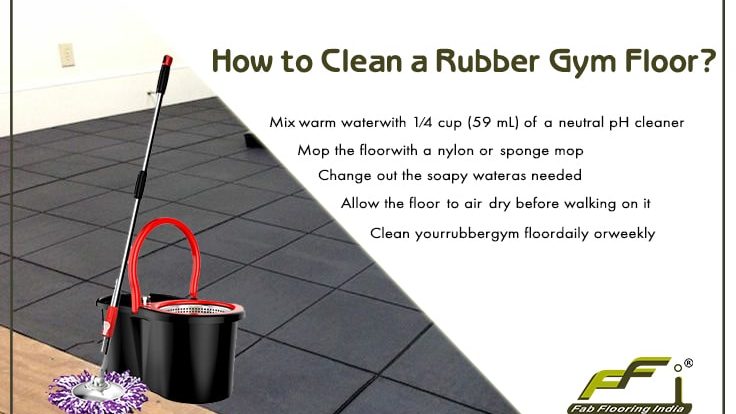 How do I clean rubber gym flooring?
Tips to clean rubber flooring
Rubber flooring is the best flooring option for the gym and for other applications due to its easy-clean properties.
In this blog, we will discuss how we should clean rubber flooring and what specialist care tips we have to use for cleaning purposes.
First of all what is rubber flooring?
Rubber flooring is one of the best flooring options which is most durable with easy to install and maintain. Rolls and tiles are made up of the reused crumbs and which are manufactured of rubber materials.
The best one is that rubber flooring is eco-friendly. This is made without BPA(Biphenyl A) & low VOC emanations. This flooring is a healthy option for our families
FFI –Rubber tiles are available in V-groove, paper-cut & interlocking tiles. Rolls and Tiles can be installed in indoor or outdoor areas and rubber flooring is an incredible decision for the home gyms or commercial gyms.
Clean rubber flooring
To keep clean flooring we have used some tips like:-
By well placed dust control mats reduce dirt ,dust and debris.
Small particles are one of the most maintenance tasks which you will face after installing rubber tiles or rubber rolls. These floorings can be placed in front of the entry point or where the people will spend more time.
We can can be vacuumed to remove the dust or debris .
Fab Floorings India understand these type of problems which is you are facing that's why we manufacturing laminated rubber flooring. laminated rubber flooring is the rubber tiles on which a 2mm layer of rubber rolls make a smooth surface and can be easy to wash and maintain.
clean the floor through a vacuum process by using a nylon mop with a mild neutral PH cleaner and warm water.
Using Pinesol or simple green to reduce the rubber odor which normally increased in summer.
one more thing is that always avoid petroleum-based cleaners or wax in your cleaning process.
To clean gum, you can use a plastic or wood scraper.
To disinfect rubber flooring mix 240ml white vinegar in 3.8L of warm water in a bucket.