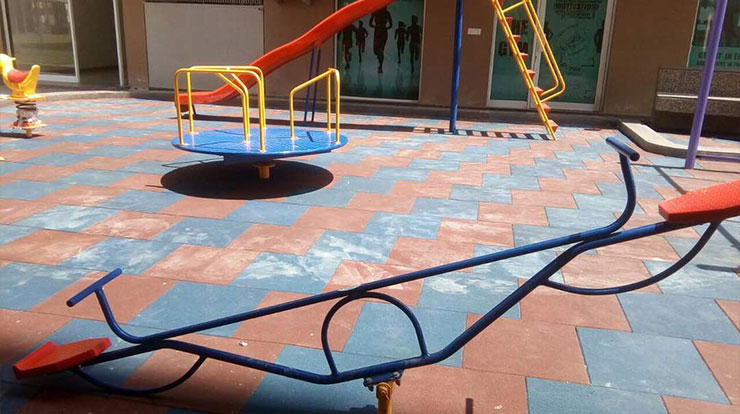 Safe Flooring for Play Schools
Play schools form an essential part of a child's growing up days; most children receive their first shock of independence when they are enrolled into play schools/pre-schools away from the watchful warmth of their parents. This shock is quite common and play school staff is quite accustomed to handling such initial reactions from toddlers. As the children spends a few days in their new surroundings they begin to adapt and make friends with other children, this is a sight to behold as children befriending other children is quite an amusing phenomenon and friendships are formed even if the colors of their lunch boxes match. Kids during their play school years learn to engage with teachers who help them bring about a certain form of discipline in their antics, they are trained to seek permission, they open up about asking questions , waking up on time and they open up to a whole new world of language and manners. This also leads the little ones to develop social skills and takes away their fear of public life. There are a few examples of friendships that have started in play schools and endured the tests of a lifetime.
It is the responsibility of play/nursery schools to create an environment for a child that is safe, friendly, and hygienic and make the experience of coming to the school a memorable one. Most child experts believe that if a play school environment is welcoming a child will be yearning to go there right from the moment he/she wakes up in the morning.
Playschools put in a lot of effort to ensure that the environment in their schools is compassionate and as vivid as a child's imaginations, bright colors, cartoons on walls, and tastefully colored walls and furniture help a child ease into the school. However, an important area where quite a few play schools falter is the choice of flooring. Many play schools make the glaring mistake of using flooring which is hard and completely unsafe like concrete, marble, or ceramic tiles. These floorings are brutal in an environment where there is a frenzy of activity taking place: dance, sports, running around, and just little children indulging in playful activities are some of the things that take place in a playschool throughout the day. Playschools must ensure that the flooring being used is completely safe and this is where Kids Play Area Flooring Tiles play an important role in making the environment safe in a playschool. These tiles have high slip resistance thus, making it possible for the kids to run around without a care in the world, the tiles have a cushion effect which makes them ideal for any area that involves children running around. When children run about they are bound to fall but the high compression of rubber absorbs the shock of the fall making the impact soft, this saves the child from any form of injury. This sort of safety cannot be found in any form of hard flooring available in the market. Some of these tiles come with seamless installation from point to point like paper-cut, this ensures that even at the corners a child is completely safe and as there are no jointers in the middle the child cannot fall by getting there foot stuck in a tile gap.
Rubber flooring also comes in mats and rolls, since rubber flooring is soft flooring there is no possibility of child scraping against it. A major aspect in a play school is the cleanliness and hygiene that it maintains since little children are yet to fully develop immunity; playschools need to have an environment that is free of any allergy-causing chemicals, paints. The toilets should be sanitized and cleaned with good quality sanitizers and disinfectants. To this point, you would say that most playschools do this all the time, however, it's after this that they go horribly wrong. Playschool equipped with hard flooring use harsh chemicals to clean their floor, children usually lie down or fall during their fulfilled activities and this is how their delicate skins come in contact with harmful cleaning chemical residue causing allergies and rashes. Even the fumes from these can cause respiratory ailments. Fab Floorings India is a Kids Play Area Rubber Flooring Manufacturer with more than a decade of experience in creating a safe flooring for kids that is not harmful to children and also providing the necessary safety that a playschool requires. Rubber Flooring only requires a gentle cleaning of a moist mop to clean it and you can vacuum it once in a while to clean away any crumbs. The material used is high quality and made from recycled tires thus making the flooring completely eco-friendly.
Rubber flooring also has more color options than a basic ceramic flooring can provide, kids love an area that is a mix and match of a wide range of colors and rubber Fab Flooring's designers have created just the kind of flooring colors that are not only pleasing to the eye they also make the playschool look vibrant, this also helps the color tones match the energy of the kids imagination making the playschool a pleasant experience for the children while keeping them safe.
Many play schools also have slides and swings for little children placed in an open area, this though entertaining for the kids also requires flooring that is not only safe but can also withstand the temperature changes combined with the effects of nature. Playground Rubber Flooring ensures that a child can enjoy their swings and slides without their parents worrying about their child's safety. Rubber-based floorings for Playgrounds are designed with a height to floor ratio, which means that the thickness of the rubber floor is decided by measuring the height of the tallest swing/slide in the ground and also keeping in mind the weather conditions. The thickness of the flooring according to the height helps in cushioning any impact of a fall that may occur, also as children run around at great speeds falling on rubber-based flooring will keep them safe from any injuries. Children however sweet do tend to get involved in fights with each other and the maximum that they do is push each other, a rubber-based flooring absorbs the shock of such a flooring thereby rendering the push harmless. Playground rubber flooring is also available in many colors and patterns which will make the playtime more fun and enjoyable for little children.
In addition to the above benefits, Rubber-based flooring is highly durable and can last anywhere from 6 to 7 years and is also stain-resistant and stains are a big problem when you have little children in a room. Rubber-based flooring is not only economical but as proved by its cleaning procedures it is also very easy to maintain saving you a lot of money and time. It is always advisable to discuss all your issues with a Kids Play Area Rubber Flooring Manufacturer, so that the product is designed according to your needs, this ensures safety and quality.