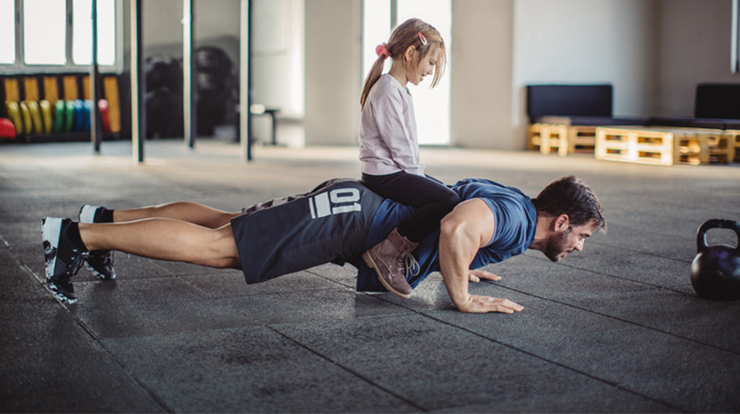 A home gym can also be a play area for kids with the right kind of safety flooring
Home gyms are now a common presence with many people now creating an exercise zone in their houses as the episodes of the COV-19 virus keep increasing and reach pandemic proportions. Shortage of time and odd working hours have also lead to the spawning of home gyms all over the planet. Most home gyms are designed to suit the needs of the inhabitants of the house; some home gyms are so unique you would think they are straight out of a home décor book. The care and investment of time and money made by people into their home gyms result in the end product being a work of art and unmatched craftsmanship. This result is not quite so out of the book if you think about it, after all, anything that is in one's house is an extension of the owner or blends into the already existing aesthetics of the house even if it is home Gym Flooring Rubber Tiles.
The other side effect of the COVD-19 virus:
With the global Diaspora being affected heavily by the novel coronavirus, governments all over have pretty much closed down schools, colleges, and other such educational institutions to stem the spread of the virus to the younger population whose immune systems are not yet fully developed. But parents are faced with another dilemma if the children go out to play they are still at risk of catching the virus, so what do you do, well Fab Floorings India has just the right solution, your backyard, garage, empty room or even your home gym can be lined with Kids Play Area Rubber Flooring Tiles. This will let your kids indulge in all their little plays and frolics without them having to step out, FFI also has the option of paving half your home gym room with gym tiles and paving the other half with kids play tiles so that you can enjoy the best of both worlds: workout and playtime, right in the vicinity of your home where there is safety and comfort, they don't say home is where the heart is for nothing.
Isolation may not be good for anyone but in such troubled times, you have to make good use of the resources that you have and kids play area with little slides and houses can help in keeping your child engaged for long hours. You can keep a watchful eye on them while working out and also install a television to keep your child engaged in cartoons. The basic idea is for your child to enjoy their stay at home and you should stay fit without having to venture out. Gyms have a lot of social gathering and hence governments are pushing the world over to have them closed till the pandemic passes over.
A big backyard can come into good use if you install Outdoor Rubber Flooring Tiles these are economical and can be installed in a day's work. The backyard can be used to install, jungle jumps, rope slides, swings and you can install your gym in one corner, this will ensure that you get the necessary fresh air without you have to come in contact with people, you can even have a barbecue while your little ones run about in their fun and frolic or make beautiful sandcastles.
Garages are not just for storage
And last but not the least garages are not just for storage or parking cars, you can make use of our rubber rolls on the floor and walls and create a great indoor gym with equipment for you and the kids to pass your time since almost all corporate is now' imposing work from home' it is imperative that you stay fit and also enjoy your time with the family. You could see this as a blessing in disguise since most people find it hard to get the time to spend with family, so this is the time to grab the opportunity to stay fit with safe flooring combined with some ME and family time. You can with friends but yes! safe distancing and hygiene will help you engage socially although at a highly restricted level. Perhaps you could even take part in terrace gardening with paved rubber tiles providing the necessary protection to your roof from water damage. The virus may be spreading but it is up to you how you spend your time in isolation: you can repent and resent or you can relish and cherish what nature has given you and make the best of these few months. You could use this time to also mend a few relationships that withered away to the test of time, it is human nature to socialize and nature seems to have given us the opportunity although limited to phones and social media only.